Get upto 50% more with TWF Vouchers
Share
Regular price
MRP Rs. 499.00
Sale price
Rs.499
Unit price
per
Sale
Inclusive of taxes
Rs.499.0 /kg
Sold out
Whole grain breads - Purpose crafted for baking, TWF Flour X is a proprietary whole grain bread flour for guilt free baking

Soft breads - softer, taller loaves with a rustic flavour

High protein

Consistent baking - T150 alternative

Unparalleled nutrition - Upto 7x more micro-nutrients,6x more fiber and 23% lower new carb (1)

Intelligent bread flour – TWF's Multi-Dimensional Milling blends together wheat and barley in a nutrient-locked milling process (retaining both bran and germ) to give you benchmark defying nutrition and a unique artisanal flavor in your breads

No GMO, No Chemicals - Unbleached, Unprocessed, Unadulterated
Unbleached, no chemicals added.
Uses

Whole grain pizzas, sourdough pizzas, wood/gas fired and deck ovens
Flour Specifications

Rustic flavor, Hydration 100%, High Elasticity, Stretch 100%, TNI and TDI 80+
Superior Nutrition

7x more micro-nutrients than maida. Unbleached. Completely natural

Shipping

Free shipping on all orders across India
View full details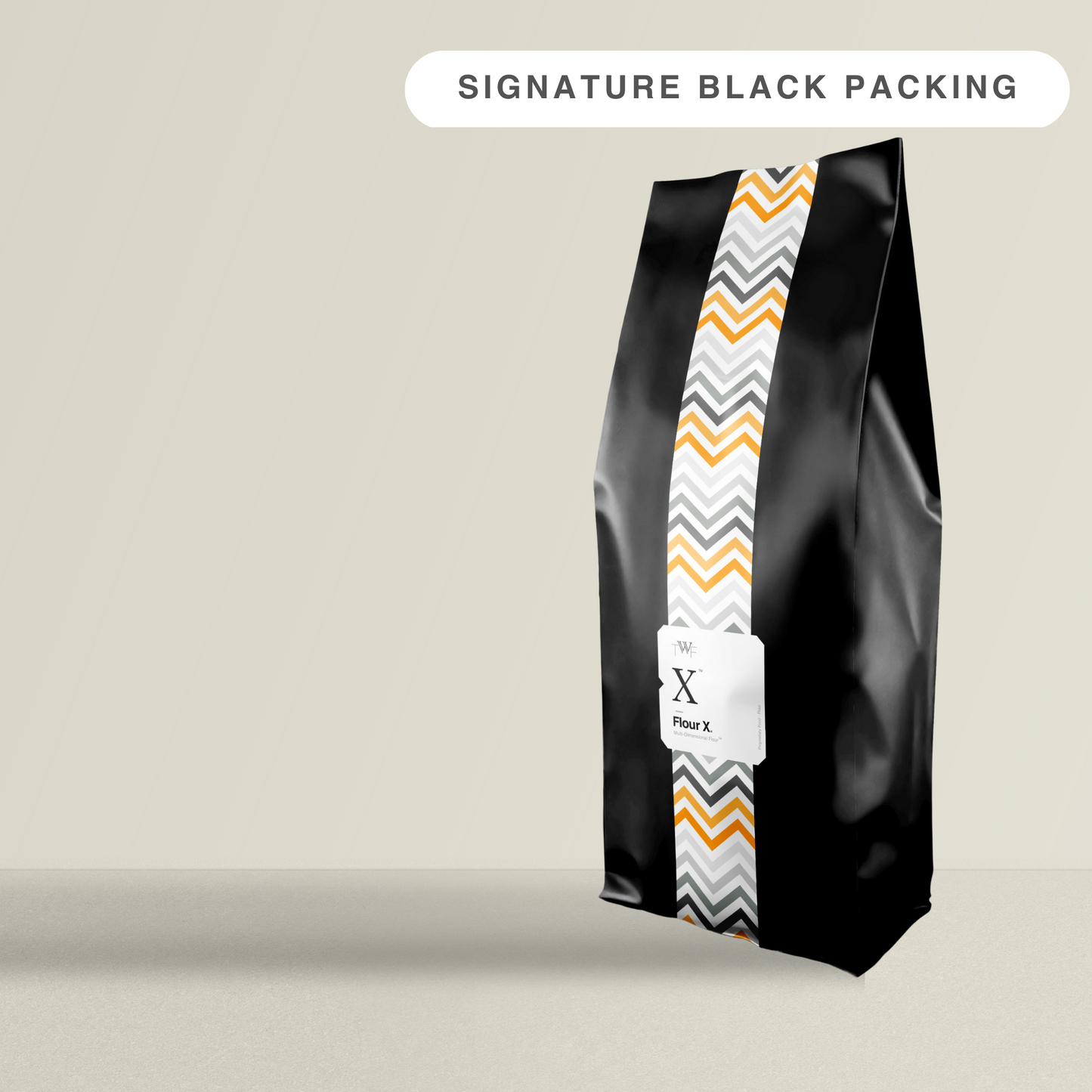 TWF has purpose crafted a proprietary whole grain bread flour that is bound to change how you bake. TWF's Multi-Dimensional Milling™ blends together wheat and barley in a nutrient-locked milling process (retaining both bran and germ) to give you benchmark defying nutrition and a unique artisanal flavor in your breads.

Flour X intelligently uses its fiber content to support the starch-protein framework in your breads, helping you achieve unbeatable rise and crumb quality.
For whole grain breads with unparalleled nutrition
No Funny Business

No GMO. No Chemicals. No Added Gluten. No Bleach. No Preservatives

Crafted for Success

Better flavor, better texture. Lighter on the tummy. Easy to work with
Collapsible content
7x more micro-nutrients in your bakes¹

Multi-Dimensionally Milled™ to retain and efficiently deliver unparalleled access to Minerals, Vitamins, protective Antioxidants and Fiber⁺

Retains bran and germ: Retains all the components of the whole wheat kernel for a wholesome bake

Smart nutrition delivery: Balanced starch to protein ratio for long term gut health⁺ ᵃ
5 Health benefits


Long-term gut health: Rich in resistant Fibers that act as prebiotics⁺ ᵃ

Protects your heart: Flour X is rich in Fibers, has Good lipids and is free from Cholesterol. This has a favorable effect on your cardio-vascular health⁺ ᵇ

Reduces risk of cancer: Flour X is rich in Manganese and is a good source Anti-oxidants and Polyphenols that contribute towards protection of cells from oxidative stress⁺ ᶜ ᵈ

Improves metabolism: Flour X is rich in Vitamin B12 and Fiber and has Iron and Magnesium that have a favorable impact on BMI index⁺ ᵉ

Sustains energy: Complex carbs in the flour burn slowly and sustain energy for longer⁺ ᶠ

Increased immunity: Flour X is rich in Phosphorus, Manganese and has Iron and Magnesium that improve overall immunity of body⁺ ᵍ

Precision crafted for lofty & soft whole grain bakes

Multi-Dimensionally Milled™ whole grain bread flour that is easy to work with and is extremely versatile

Stronger gluten network: Intelligently milled to structure the whole grain components in a way that do not interfere with gluten formation

High elasticity and extensibility: Unmatched consistency

For better proofing of dough: Better fermentation

Mathematically crafted at a molecular level to provide consistency: Easier whole-grain baking

Smart protein-starch networks: Easier dough development easier and almost fail proof
Best suited for

Whole-grain breads
Rustic flavor & softer crumb
Sandwich breads
Buns
Sourdough boules & baguettes

Flour X is versatile. Replace in any recipe and enjoy wholesome breads guiltfree!
Whole wheat pizzas
Bagels
Baguettes
Data driven

Algorithmic milling technology

Precision crafted

Softer, lighter, better tasting rotis

Intuitive

Works with the gut to increase access to nutrients

Smart

Perfectly curated balance of nutrients
60% higher perceived protein⁶ to Flour X
Flour X
Perceived protein - 14.5%

Maida/APF
Perceived protein - 9-10%
Total Nutrient Index (TNI) >80

Higher TNI corresponds to higher nutrient content in the flour. Non TWF flours have TNI ~50

Texture Dispersion Index (TDI) >80

Higher TDI means that the flour is more efficient in delivering the nutrients to your body. Non TWF flours have TDI ~60

Oxidation Impact Factor (OIF)

Higher OIF corresponds to higher nutrient retention in the flour - lower nutrient loss through oxidation
Ground-on-order
Flour X will be freshly milled after the order is placed
Problems with non-TWF bread flours